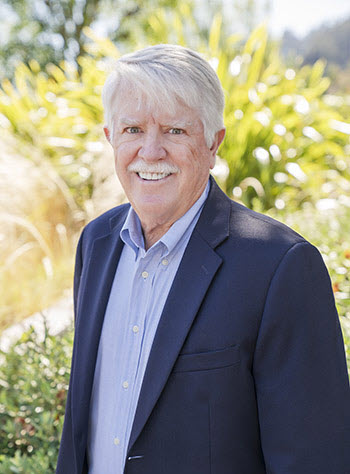 Aviation
Business
Construction/ Construction Defect
Consumer Law/ Product Law
Contracts
Discovery referee
Employment
Insurance
Arbitrator
Land Use / Boundary Disputes
Landlord-Tenant
Personal Injury
Real Estate
Tree Law/ Neighbor Disputes
Memberships & Special Honors
Charter Member of the Mediation Society
Panelist – California Court of Appeal
San Francisco Superior Court
Member, Lawyer Pilots Bar Association
named to Northern California Super Lawyers 2004, 2005, 2006, and as Super Lawyer with specialty in mediation in 2007, 2008, and 2009
International Who's Who of Product Liability Defense Lawyers
Education
J.D., University of California, Hastings College of the Law, 1971
B.A., Sonoma State University, 1968
W. Bruce Wold, Esq.
A combination of vigorous representation of clients and a clear understanding of what it truly takes to help clients resulted in Bruce Wold having a long and successful career handling high stakes litigation for a variety of clients both locally and nationally. That said, having mediated more than 100 cases nationwide for many different clients in many types of cases Mr. Wold early in his career recognized the value of mediation and other forms of ADR.
Before retiring in 2006 from the practice of law, Mr. Wold went through formal mediation training and sat as mediator in many interesting and challenging cases. Since retiring, Mr. Wold has been on the panel of Resolution Remedies serving as mediator, arbitrator, and discovery referee on both simple and complex cases.
In a recent interview Mr. Wold passed along some interesting thoughts about his role as mediator:
"I have always hoped all parties leave the mediation process with the strong belief that the right thing happened – and that the process worked. To make that happen the mediator must be prepared, professional, thoughtful, and credible.
I have observed, studied, and utilized all sorts of mediation styles and approaches, but, interestingly enough, I've participated in mediations where the best thing a mediator did and said was absolutely nothing. For attorneys, you might agree, this is an enormous exercise in personal restraint, but it works when the situation calls for it.
No single style by the mediator can work every time. Much like a coach must analyze how a game is going and make appropriate adjustments, a mediator must understand what is working and what is not, and then adjust the process as necessary.
Effective mediators learn to dispel preconceptions about the case at the door. Thorough preparation is essential, of course, but flexibility and disciplined thinking are paramount to the process. You never know when you might have to shift strategy in mid-stream, so it's vitally important to be open-minded, accommodating and flexible.
A negotiated final agreement driven by a process in which both counsel and their clients have actively participated in a meaningful and civil way is profoundly satisfying, particularly when you've contributed little more than your attentiveness, gentle guidance and presence."
 Mr. Wold has lectured extensively to a wide variety of groups on the art of mediation, and has built a reputation as a practical, good-humored problem-solver who respects the complex relationships among the parties and uses that knowledge as a way to guide them toward conflict-free resolution.
Background
Mr. Wold retired from Sedgwick, Detert, Moran and Arnold, a 350-lawyer international law firm based in San Francisco. As one of the firm's senior trial partners, he chaired the firm's 100 lawyer Complex Litigation Group. Because of his skills at working with people with differing opinions, he headed the firm's Partner Compensation Committee for several years and was a founding partner of the Attorney Relations Committee.
Before retiring Mr. Wold created the Sedgwick Trial Academy, a weeklong trial practice course, and then taught the course for ten years, eventually helping to train more than 150 of the firm's lawyers. He is an instrument rated private pilot with FAA approval to fly formation flights in airshow space. He is active with golf, tennis, skiing and sitting with his young grandkids.

Bruce, in my honest opinion it was your skill as a mediator that brought this case to a successful conclusion. I truly appreciate your time and professionalism and look forward to working with you again.
Bruce Wold did a superb job. He had a very strong grasp of the facts and the law. He was personable, tenacious, pragmatic, and persuasive. I highly recommend him.
As a Discovery Referee Bruce Wold heard and decided 35 different discovery motions. Bruce read every page, he understood the issues, conducted fair hearings, and his rulings were always well-reasoned and fair.
Bruce, we appreciate your assistance and expertise in getting this complex, yet interesting, dispute resolved. Our clients truly appreciated your guidance and professionalism.