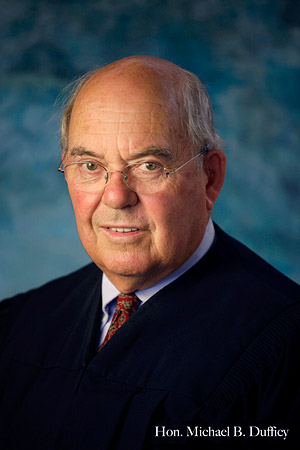 Construction
Contracts
Discovery Referee
Elder Abuse
Family Law
Homeowner
Insurance
Landlord-Tenant
Personal injury
Real Estate
Tree Law
Trusts/ Estates/ Probate
Memberships & Special Honors
President, Marin County Bar Association (1984)
Education
J.D., Hastings College of the Law, 1963
B.A., Stanford University, 1960
Judge Michael B. Dufficy (Ret.)
If you are ever in need of a crash course in Marin legal history of the past 40 years, Judge Dufficy would provide you a fascinating first-person account of the oft-tumultuous trials that have utilized his talents as both an eyewitness and a fully engaged participant. As a member of a highly respected pioneer Marin family whose name elicits instant respect in medical, legal, and community activism circles, Dufficy has never eschewed controversy or tough decisions. The strength he has gained from his eye-of-the-storm involvement – he defended Fleeta Drumgo in the highly charged "San Quentin Six" trial, and he was certified a "Specialist" by the California State Bar in both family and criminal law – has shaped him into a top-notch mediator with first-rate people skills.
"I thoroughly enjoy the challenge presented by complex, frequently thorny mediation issues," asserts Dufficy. "What often amazes me is how even three or four decades worth of being an attorney and a judge is still not adequate preparation for what awaits you in delicate negotiation matters. That's when you really have to dig deeply into your soul, check your preconceptions at the door, and maintain a completely open mind. The intensity of the proceedings is sometimes breathtaking. These are very serious matters that will affect people's families, livelihoods, careers and holdings, so I take my role as facilitator very seriously. The parties recognize this, which allows us to proceed with a sense of fair play and mutual respect."
Best known for his family law expertise, Judge Dufficy earned a solid reputation in personal injury, real estate, construction, probate, and other matters. Low key and conservative in personal demeanor, Dufficy admits to a passion for justice burning deep within. His peers refer to him as a wonderfully affable and loyal friend who brings wisdom, balance, and a delightfully dry sense of humor to sensitive proceedings which sorely need each of these attributes.
On The bench
During his tenure on the bench, Judge Dufficy served two two-year terms as Presiding Judge of the Superior Court. Over the years he has presided over all calendar assignments, including the Court's Appellate Division. Judge Dufficy also served ten years in the Civil Department, six years as Probate Court Judge, and five years as the Family Law Judge, as well as participating in the Marin County Office of Education Mock Trial competition.
Background
Before taking the bench, Judge Dufficy practiced law for 26 years in Marin County, including two years as a Marin County Deputy District Attorney.  In addition, Judge Dufficy was elected President of the Marin County Bar Association in 1984.  His private practice emphasized family law and criminal defense, but also included essentially all areas of civil litigation, including personal injury, real estate, construction, and probate matters. As a lawyer, he tried more than 100 civil and criminal jury trials and was certified a "Specialist" by the California State Bar in both family and criminal law. Judge Dufficy has taken several mediation courses, both privately and through the CJA.
Contact our staff
We are problem solvers and we look forward to working with you! We now offer various conference locations and are willing to come to you if the participants find this more convenient.

The staff was fabulous in view of the bomb scare. Larry Baskin did a first rate job under trying circumstances. We settled in a restaurant down the street.
Barbara Monty is a passionate and tenacious mediator. She not only demonstrates a quick grasp of the legal issues, but is adept at dealing with and diffusing the personal dynamics that can drive many disputes.
I just finished mediation with Alan and I must say he did a terrific job. The issues, and contentious attorneys, myself included, seemed like child's play for him. While the dollar amounts were modest - sometimes the hardest cases are less than six figures - he brought the case home and settled it. Well done!
Barbara Monty is a marvelous mediator and her clients love her. Her experience as a litigator and her compassion and emotional intelligence make her an expert at guiding parties and attorneys, sensitively and firmly, toward settlements in mediation.
Barbara Monty was fully prepared and displayed an excellent understanding of the facts and legal issues. She treated all involved with courtesy and respect, and was helpful in ratcheting down a prior level of animosity. Ms. Monty was focused and efficient, and I would not hesitate to use her again.